Win Loyalty and Your Guests' Dollars by Delivering an Exceptional Customer Experience
03/06/2017
Las Vegas drew a record number of visitors last year — 42.9 million people — even more than tourism officials had predicted. That's the word from the Las Vegas Convention and Visitors Authority, which says Vegas' numbers climb year after year because the city continually reinvests in its infrastructure — and in delivering amenities tourists want.
While that's great news for tourists and business owners alike, it's also problematic.
In a city jam packed with glitzy casinos and other thrilling entertainment options, scores of world-class hotels and restaurants, and enticing retail destinations as far as the eye can see, there's too much to see during an average visit. (According to Statista, that was 3.4 nights in 2015.)
So with so many venues competing for the same tourists, how do you ensure people visit your property? Spend their dollars at your tables and restaurants, and become loyal brand ambassadors when they get home?
A Stellar Customer Experience is the Secret Sauce
Casinos, hotels, retail and entertainment venues share a common thread: they each need to engage customers and elevate guest satisfaction to deliver that stirring customer experience.
That's where immersive touchscreen experiences can help.
Sure, boring digital signage and ill-performing touchscreen kiosks abound in Vegas. But cleverly conceived interactive multimedia experiences that harness the power of storytelling while providing helpful visitor information can capture the attention of new visitors and transform one-time guests into loyal, long-term customers.
That's what ViewPoint is all about.
Take a look. Here are a few screen captures from one of ViewPoint's casino-themed interactive experiences, including examples of two coverflows (main pages) and some deeper-level content. Nothing boring here!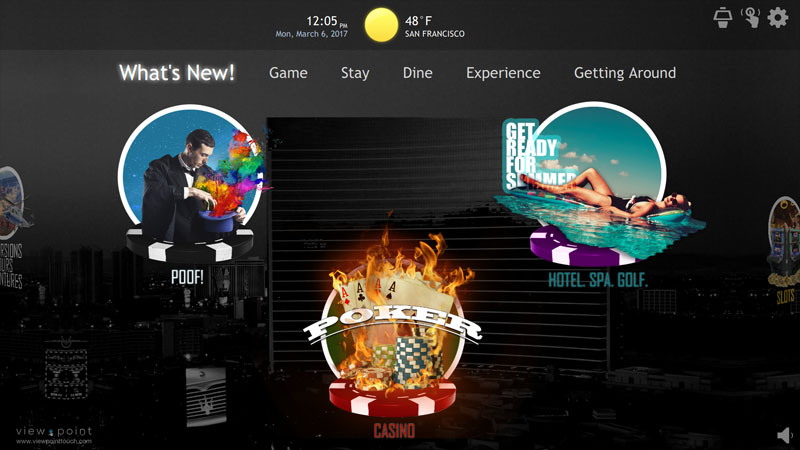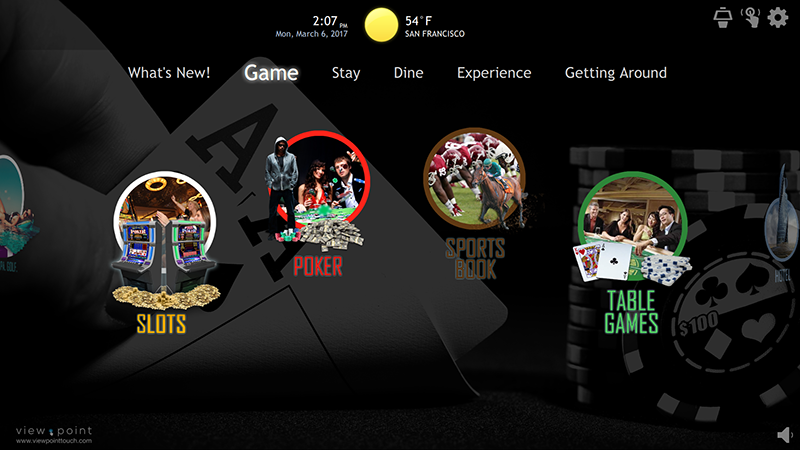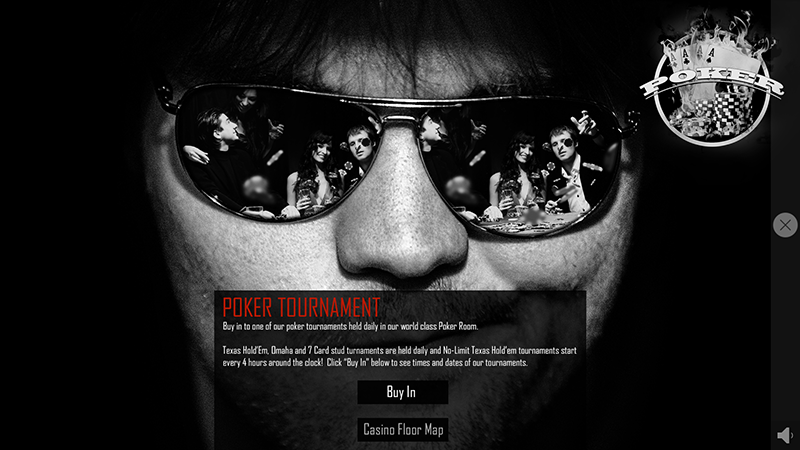 Capture Attention and Dollars
These types of captivating, interactive experiences  presented on large, strategically located touchscreen kiosks situated throughout your venue — allow you to educate your guests about specific properties and amenities, and showcase your brand story to tourists who may be just passing through one of your establishments on their way elsewhere.
If your kiosks are compelling enough, you can get those folks to change their plans and spend time with you rather than your competitor down The Strip.
Your interactive touchscreen experience can be a game-changer.
Here's how. Say you want to promote your casino — maybe even a specific event or game. Or you want to showcase a concert, comedy show, or even a sporting event. To do it, you need to attract attention and offer helpful information in a most captivating way that stands out from other entertainment options around town.
An immersive, visually arresting kiosk-based touchscreen presentation can draw in new visitors, as well as remind people who have checked out your properties in the past, why they should stick around.
In other words, you can use your touch kiosk to generate excitement about what's happening at your properties and provide all the info they need to make their stay memorable. When they consider a return trip to Vegas, guess who they'll think about?
Need more convincing? Here are a few of the ways you can put an immersive touchscreen experience to work for you:
Greet guests in your lobby, and guide them to meeting rooms, restaurants, casino, shops or other amenities
Promote your show, events or restaurants and provide info on where to find tickets, entrances and seating
Publicize casino jackpots and welcome visitors to your slot machines and gaming tables
Provide concierge services, including general Las Vegas tourism information
Use stunning graphics and a well-constructed story to enhance your brand with memorable messaging
Whether you focus on wayfinding or delve more deeply into telling your brand's story, immersive touchscreen experiences will help you connect with more of those 42.9 million annual Vegas visitors.
And more guests who have a great experience mean more dollars spent in your establishments.