ViewPoint Interactive 2017 Year in Review
12/15/2017
Now that we've just about shut the door on 2017 — a super busy one here at ViewPoint Interactive Solutions — I want to share some of the highlights, and offer a little peek at our plans for 2018.
New Clients
ViewPoint achieved another strong year in fiscal 2017, doubling its client roster. We added a slew of new clients in a variety of sectors, from cybersecurity firm Cyphre Technology to The Boy Scouts of America to Oxford Immunotec, which develops and commercializes proprietary tests for the management of underserved immune-regulated conditions. Also joining our growing client roster, were a number of other dynamic organizations, among them Sika Corporation, FEI (recently acquired by Thermo Fisher), and Boston Scientific.
For each, we created (or are currently working on) custom touchscreen experiences to showcase their products and increase customer engagement in a variety of venues, from trade shows to retail outlets to off-site company facilities to our client's corporate offices.
Cyphre Technology
 Cyphre Technology used ViewPoint to present critical information on cybersecurity at a prestigious corporate event sponsored by AT&T.
Oxford Immunology
With its ViewPoint touchscreen experience, Oxford Immunotec showcased its technology and gathered valuable contacts at two major industry trade shows.
Boy Scouts of America
The Boy Scouts prominently feature its ViewPoint kiosk at its New England Base Camp at Blue Hills, a popular adventure park just outside Boston that offers fun outdoor challenges for  families, school groups, scout troops and corporate teams.
We also developed a number of interactive games, like this digestive system-focused game that Boston Scientific used to draw the attention of senior-level physicians at key industry trade shows.
New Projects
In addition to welcoming new clients to the ViewPoint family, we also worked on a number of exciting new projects for existing clients, including Thermo Fisher, ZOLL Medical and MilliporeSigma.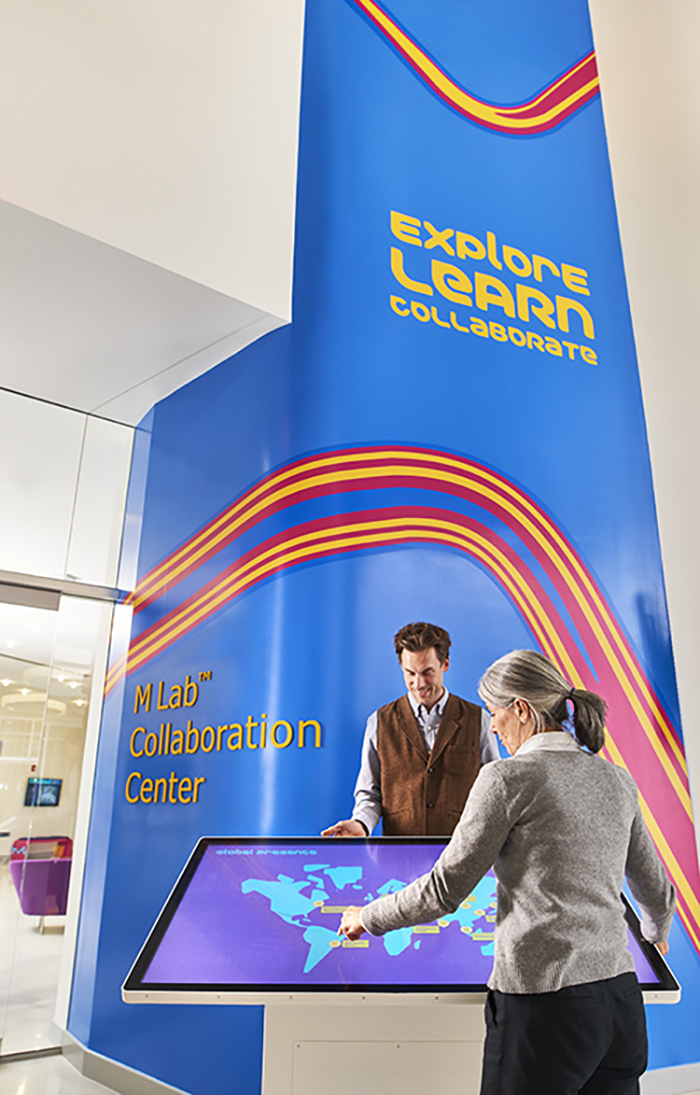 MilliporeSigma
For longtime client MilliporeSigma, we developed the interactive aspects of its innovative M Lab™ Collaboration Center in Burlington, Mass.
MilliporeSigma's  $115 million M Lab™ Collaboration Center is a 280,000-sq. ft. facility designed for "hands-on experience and expert consultation through various stages of biopharmaceutical development and manufacturing."
The company describes the center as a place "where the scientific community can explore, learn and collaborate with us as we work together to solve the toughest problems in life science."
New Partnerships
We also established a number of partnerships with exhibit houses and agencies, such as Sacks Exhibits, Blue Hive and Ward Hill Marketing, as part of our focus on the trade show sector. We anticipate more in 2018. We provide each with custom solutions that enable them to give their own customers unique, technology-driven experiences. Standing out from the crowd is the name of the game and we help our partners deliver experiences tailored to their customers' individual audiences.
Looking Ahead
We're proud of the work we did in 2017 but are eager to surpass this year's achievements in 2018. Our aims include making even more inroads into the trade show and retail markets, establishing additional vendor and agency partnerships, expanding our portfolio of interactive games for live events, and amping up the innovation for our corporate clients. We're looking forward to another strong year!
If you'd like to learn more about ViewPoint and how it can drive engagement for your business, give us a call at 617-512-1100.