ViewPoint Helps Flagship Bring Mercedes-Benz Showroom to the Mall
10/03/2016
You live in Greater Boston. You want to purchase a Mercedes-Benz. There are nine dealerships in the state plus several more in neighboring New Hampshire and Rhode Island. Where do you go? The dealership nearest your home? The one with the best reputation? The one that does the most advertising? Flagship Motorcars of Lynnfield, long the premier Mercedes-Benz dealership on the North Shore and surrounding areas, wants you to choose them.
Welcome to the Flagship Zone
To help keep Flagship top of mind, particularly among potential buyers in its targeted zip codes, the Herb Chambers-owned dealership unveiled The Flagship Zone. Located in the Northshore Mall in Peabody, Mass., right outside Macy's, The Flagship Zone is a Flagship-branded oasis where shoppers can take a break, relax in comfortable chairs, watch a little TV, charge their devices. And, take a look at some of the newest Mercedes-Benz models.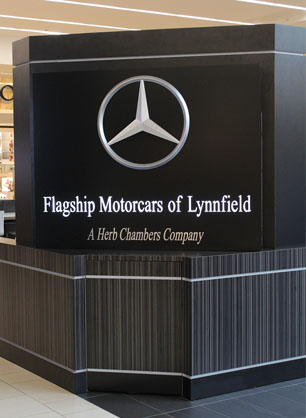 "To grow our business, we're always on the lookout for creative, compelling and effective ways to engage with potential buyers," said Adam Hays, Flagship's Director of Corporate Partnerships. "We created The Flagship Zone to enhance our visibility. The set up features two vehicles that we swap out monthly and seasonally, which definitely draws attention from curious shoppers."
"But we wanted to do more than get people to ooohhh and aaaahhh over those vehicles," Hays said. "We wanted a fresh way to reach potential customers and influence their buying behavior before any purchase decisions have been made. That's why we included both actual inventory and ViewPoint touchscreen experience kiosks in the Zone."
"So much of the car-buying experience these days is digital," he continued. "Buyers typically do extensive online research so by the time they actually visit our showroom, their mind's are made up. They're only coming into the dealership to actually execute the deal, not to kick the tires. By reaching them earlier in the buying process, when they are still open to possibilities, we can better promote our brand, educate the buyer and influence the purchase decision."
Touchscreens Enhance the Experience
That's where ViewPoint comes in. The large-format touchscreen kiosks present branded content specific to Flagship, including the dealer's complete, up-to-date inventory. "Shoppers can conveniently browse virtually through our latest new and used inventory," Hays said. "They can also learn more about our dealership, which is situated just five or so miles from the mall, and about the Herb Chambers organization. This way they can get a sense of what we bring to the table."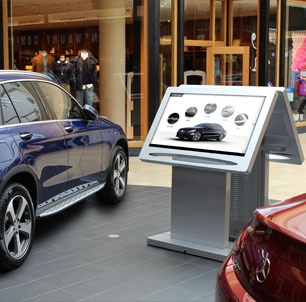 "Dealers have been placing a single car in the middle of a mall as a marketing tactic for years," Hays said. "But that approach doesn't fully represent all that a dealership has to offer, and it doesn't draw in shoppers not specifically in the market for a car. Flagship Zone is different, more effective. By including ViewPoint's interactive touch technology we are much better able to showcase Flagship Motorcars of Lynnfield, Herb Chambers Companies and Mercedes-Benz in general."
"ViewPoint's technology makes looking at digital content more interesting, even fun," Hays said. "Unlike clicking on a keyboard to explore a website, ViewPoint's immersive touch technology lets our potential buyers actually manipulate our inventory and configure vehicles. And, it allows people to learn a lot about Flagship without needing a salesperson there to explain," Hays said.
A Self-Guided Journey
The Flagship Zone will remain in the upscale, 140-store mall for at least the next two years. Though the Flagship Zone will be staffed during peak hours, the ViewPoint interactive experience was designed specifically to allow shoppers to explore Flagship's offerings in as much depth as they'd like, even when no sales associate is available.
"Some people want to check out the vehicles at their own pace, without guidance from sales," Hays said. "ViewPoint fits perfectly with our core philosophy: we don't sell cars; we help people buy them. ViewPoint allows us to give our buyers the tools they need to facilitate decision making in a way that aligns with how we conduct business. We always put customer needs at the forefront."
"Working with ViewPoint has helped us draw foot traffic by essentially bringing the showroom to a new audience," Hays said. "Plus, the kiosks help us build the foundation for future sales and enhance visibility. It's a winning strategy."